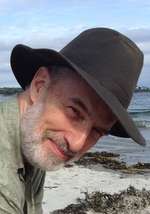 NOTE: The True Love Thing to Do is in its final stages of preparation for publication. It will be available soon. Note that this is the third edtion of the book. If you would like to be notified when it's available, please send an email to the address below.
publishers@worldcommunitypress.com
There are additional links to The True Love Thing to Do materials, sales rep info, and a feedback form at the World Community Press website:
You can click on the cover images below to see their larger versions.
---
"Would you like to live happily ever after with your one true love?"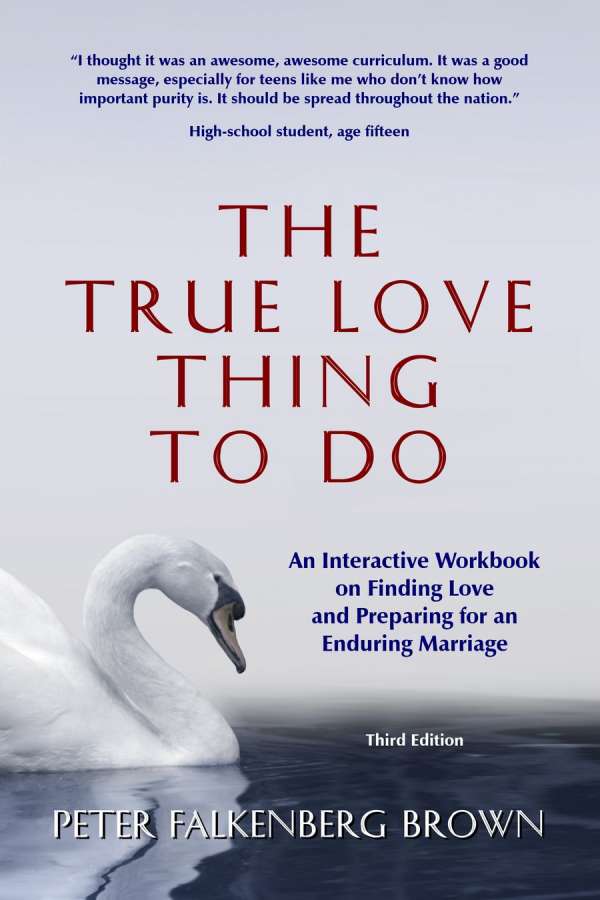 The True Love Thing to Do shows you how you can build a marriage of true love.
It explains why it's better to wait until marriage to have sexual relations—not
just because of pregnancy or STDs but because of the beauty and value of love.
The True Love Thing to Do describes a new way of thinking, feeling, and acting,
and most of all a new way of loving. It introduces a new paradigm for life in the
twenty-first century: the "Age of Illumination."
You'll Discover:
➠The connection between sex and unselfish love
➠The invisible radar of heart that all human beings are born with
➠The best way to protect yourself from unwelcome sexual advances
➠How to educate yourself to become a person of true love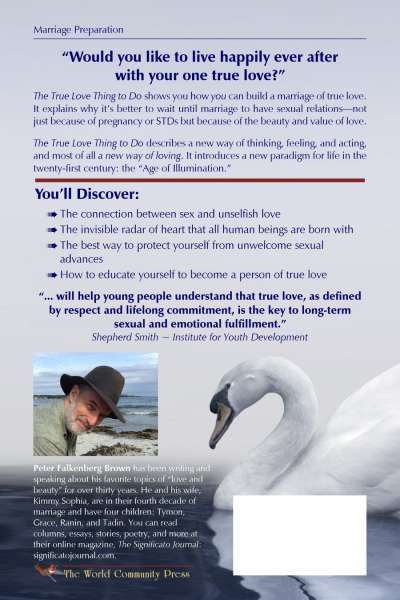 "... will help young people understand that true love, as defined by respect and lifelong commitment, is the key to long-term sexual and emotional fulfillment."
Shepherd Smith ~ Institute for Youth Development
"I thought it was an awesome, awesome curriculum. It was a good message, especially for teens like me who don't know how important purity is. It should be spread throughout the nation."
High-school student, age fifteen
---
Contents
How to Read This Book
Foreword
Preface
Acknowledgments
A Note about the Language, Vocabulary, and Examples Used in This Curriculum
Note to Seminar Moderators: Recommended Seminar Format
Part One
SESSION ONE
(20 minutes of Reading / 10 minutes of Discussion)
The True Love Thing to Do
Sexual Activity and the Realm of Heart, Part 1
Roundtable Discussions
Quotes to Live By
SESSION TWO
(20 minutes of Reading / 10 minutes of Discussion)
Sexual Activity and the Realm of Heart, Part 2
Sex Should Be Unselfish
Roundtable Discussions
Quotes to Live By
~ 10-Minute Break ~
Part Two
SESSION THREE
(25 minutes of Reading / 10 minutes of Discussion)
How to Save Ourselves Till Marriage
Roundtable Discussions
Quotes to Live By
SESSION FOUR
(15 minutes of Reading / 10 minutes of Discussion)
Courtship 2.0
~ Practical ways to find the right marriage partner without the emotional baggage of premarital sex
Roundtable Discussions
Quotes to Live By
~ 10-Minute Break ~
Part Three
SESSION FIVE
(30 minutes of Reading / 10 minutes of Discussion)
Becoming a Person of True Love and Preparing to Have Children
Building a Marriage of True Love
Roundtable Discussions
Quotes to Live By
Online Links
Web Page of Book
Online Evaluation Form
Graduation Certificate
Telling Others about the Book and Seminar
Booking the Author as a Public Speaker
About the Author
Image Credits