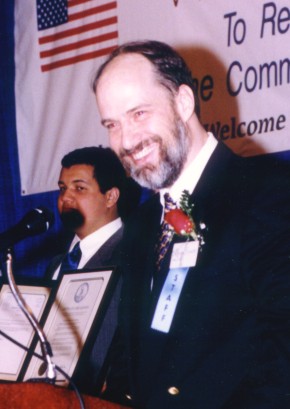 Peter Falkenberg Brown has been speaking publicly since 1979. His speciality and niche in public speaking follow his favorite topics: "Love, Freedom, and the World."
You can see videos of his speeches here.
His speeches are frequently birthed as essays, which you can read in the essay section.
"Peter Brown did an excellent job with the keynote speech. This man is not only capable of speaking to a national audience but he has 'world-class' ability in public speaking."
~ Senator Larry Pressler ~ former US Senator from South Dakota
Booking Peter as a Speaker:
His speaker's fees are negotiable. For more information, or to book a speech, please send an email to:

or call 207-657-1428.
Here's a link to Peter's Bio.
Here's a link to a sample speech:
"In Defense of Love and Freedom"
---
Booking Peter for Commercials and Voice Work:
Call the above number of send an email.
Here's a link to Peter's demo reel on YouTube:
- 4 minutes and 40 seconds
- includes public speaking example
(see many more public speaking examples at his YouTube Channel above)
- film narration / voice over example
- acting examples
https://www.youtube.com/watch?v=lfilQ3_x0VI
or watch it below: