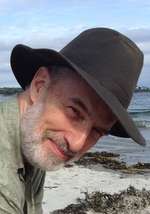 I am very pleased to announce that I've created a new monthly crowd-funding page at:
https://www.patreon.com/peterfalkenbergbrown
I invite you to become a Patron of the Arts, and visit my web page there where you will have the opportunity to support the Love, Freedom, & the World video channel by donating a small (or larger) amount each month.
As of today, the Love, Freedom, & the World video channel has 20 videos available, with a new video coming out each Friday. Here's the URL of the channel:
https://www.youtube.com/channel/UCGPezEyYpTZ-8Eq3D5aN4GA
I believe that there are enormous numbers of indivduals around the world who feel so much stress in their lives that it's very difficult for them to be inspired about life.
I've been profoundly helped by the words of others, at critical moments of my life. I continue to find encouragement from others on a daily basis, and would like to contribute to that wellspring of illumination.
Thus, the mission of my video channel is to help bring the inspirations of love, beauty, joy, and freedom to as many people as possible around the world.
My goal is to increase the time that I'm able to do these videos, and make them better and better, and reach more people with them. In order to do that, funding is necessary.
Your participation in the Love, Freedom, and the World Project will directly impact how many people we can reach with words of love, beauty, joy, and freedom.
To make it easy for you to support this effort on a monthly basis, I've joined the Patreon crowd-funding platform. By participating in this effort, you will become a Patron of the Arts, just as was common during the Renaissance.
I've set up a variety of "Patronage Levels," which all come with benefits or "rewards" given back to each of you.
Visit the above Patreon page to find out how you can support this effort.
Thank you in advance for becoming a Patron!
Peter Falkenberg Brown
Peter Falkenberg Brown is passionate about writing, publishing, public speaking and film. He hopes that someday he can live up to his favorite motto: "Expressing God's kind and compassionate love in all directions, every second of every day, creates an infinitely expanding sphere of heart."

~ Deus est auctor amoris et decoris. ~