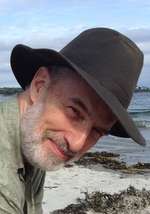 The twenty-first century has brought humankind to a crossroads. Will all human beings enjoy complete civil and religious freedom based on their inalienable rights, or will global tyranny erode and crush those rights?
Strains of tyranny come in many forms, but top contenders for this century include the potential global hegemonies of Communist China, an Islamic Caliphate that extends into Europe and Britain, and Western nations that fall to a rising encroachment of socialism and Marxism.
In spite of the hostility and ignorance of totalitarians, I believe that the scales are weighted in favor of freedom and human rights. Illumination and a desire for freedom are percolating across the world, and have been increasing in speed and scope.
You can watch the video below, or on YouTube:
Here's the audio-only podcast version:
https://podcast.peterfalkenbergbrown.com/e/incarnational-rights/
Peter Falkenberg Brown is passionate about writing, publishing, public speaking and film. He hopes that someday he can live up to his favorite motto: "Expressing God's kind and compassionate love in all directions, every second of every day, creates an infinitely expanding sphere of heart."

~ Deus est auctor amoris et decoris. ~