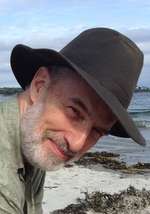 What can we learn from nature?
Can nature change us and deepen our capacity to love?
Even in the grimmest of city lives, we can find a patch of sky, a breath of wind, or a bird to console our hearts.
You can watch the video on YouTube: https://youtu.be/FviONs39jVY
or below.
We also have an audio-only podcast here:
https://podcast.peterfalkenbergbrown.com/e/reflections-on-drinking-from-the-source-of-love/
or embedded below.
---
PodCast:
Peter Falkenberg Brown is passionate about writing, publishing, public speaking and film. He hopes that someday he can live up to his favorite motto: "Expressing God's kind and compassionate love in all directions, every second of every day, creates an infinitely expanding sphere of heart."

~ Deus est auctor amoris et decoris. ~