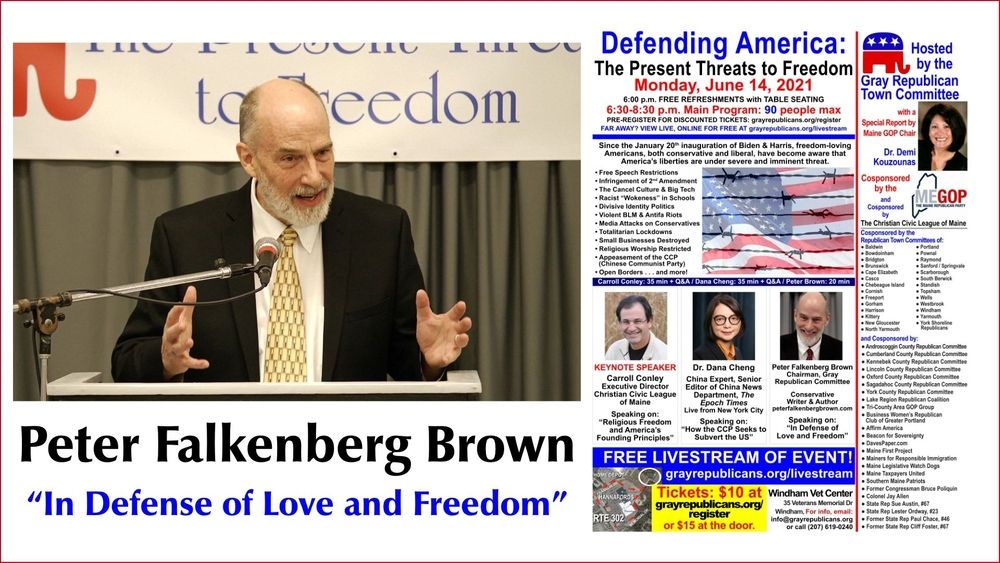 This speech was given at the program
"Defending America: The Present Threats to Freedom"
on June 14, 2021 at the Windham Veterans Center in Windham, Maine.
A quote from the speech is:

"The Great Lies of the Left are exposed when we see that the Left is not a movement of love and compassion at all, even though it says it is. The Left, and all totalitarians—by definition—are "anti-love." And, as we watch people become more totalitarian, we can see their love draining away. That is a terrible tragedy: for them—and for the world."
URLS to View: (Pick your preferred platform.)
https://tv.gab.com/channel/falkenbrown/view/in-defense-of-love-and-freedom-60d3f55c3108151bb9817a4d
https://rumble.com/viyu55-in-defense-of-love-and-freedom.html
https://www.bitchute.com/video/ZQSOYTc9owEh/
https://www.youtube.com/watch?v=qrLC6foj3Yw
---
The program was hosted by the Gray Republican Committee with a total
of 54 Cosponsors, including the Maine GOP.

The speakers included:

- Peter Falkenberg Brown, Chair of the Gray Republican Committee

- Dr. Dana Cheng, Senior Editor of China News at the Epoch Times Newspaper in New York City

- Mr. Carrol Conley, Executive Director of the Christian Civic League of Maine

- Dr. Demi Kouzounas, Chair of the Maine GOP

More information and links to the other speeches are available at:

https://grayrepublicans.org