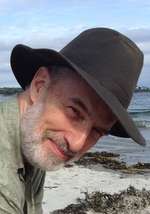 Will we have the opportunity to be creative in the spirit world?
Will we have time to "follow our bliss," or will it still be a world of drudgery, where most of our time is taken up with survival?
This presentation is the fourth of seven videos.
Follow me on Twitter at @falkenbrown.
Support this video channel at https://www.patreon.com/peterfalkenbergbrown.
You can watch this video at YouTube: https://youtu.be/V-ucATD1-TE
or watch it below:
Peter Falkenberg Brown is passionate about writing, publishing, public speaking and film. He hopes that someday he can live up to his favorite motto: "Expressing God's kind and compassionate love in all directions, every second of every day, creates an infinitely expanding sphere of heart."

~ Deus est auctor amoris et decoris. ~