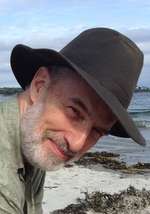 What happens to tyrants when they die? Do victims of tyranny automatically go to a higher place or does their emotional response to the tyrant affect their destination? Can tyrants and evil people leave hell if they change, or are they condemned forever?
This presentation is the sixth of seven videos.
You can follow me on twitter at @falkenbrown and email me at peterbrown@worldcommunity .com.
I invite you to subscribe, leave a comment, and click on the like button.
I also invite you to become a Patron of the Arts, and visit my web page at
https://www.patreon.com/ peterfalkenbergbrown
where you will have the opportunity to support this video channel by donating a small (or larger) amount each month.
You can see the video listed on the main video page (where you can catch up on videos you might have missed):
https://www.youtube.com/user/significatofilms/videos
or at this individual link:
or watch it below:
Peter Falkenberg Brown is passionate about writing, publishing, public speaking and film. He hopes that someday he can live up to his favorite motto: "Expressing God's kind and compassionate love in all directions, every second of every day, creates an infinitely expanding sphere of heart."

~ Deus est auctor amoris et decoris. ~