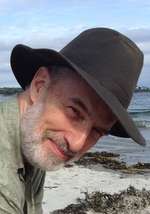 A short story that I've written about a monk who rediscovered his soul.
"It wasn't the desert that clawed at the monk's soul, making him feel as if his skin was being ripped away while he helplessly watched. It was Nevada's other side, the seamy underbelly of a beast that flaunted its bravado on billboards and in neon lights, at crap tables and on stages crowded with soulless dancers who beckoned to middle-aged men."
Watch the video on YouTube: https://youtu.be/DcgNQZNQp4s
or watch it below.
Peter Falkenberg Brown is passionate about writing, publishing, public speaking and film. He hopes that someday he can live up to his favorite motto: "Expressing God's kind and compassionate love in all directions, every second of every day, creates an infinitely expanding sphere of heart."

~ Deus est auctor amoris et decoris. ~