In 2015 I was inspired to create a ring that had a very personal spiritual meaning to me—a ring that would represent my vows of love with the indwelling God. During my daily meditation practice, over a period of many months, I decided that I wanted to create a sterling silver ring with a design of silver irises on a dark green background.
Since the design was unique, I was unable to find a ring that had already been created, so I started looking for a designer. One of the issues that I ran into was the green background, embedded into the sterling silver. I had never seen that done, and didn't even know if was possible.
I contacted multiple design shops and did hours upon hours of research looking for someone who could make the ring. I was having a very hard time finding a designer with the right expertise.
I finally spoke with Jessica Hall, from Bluebird Designs (http://www.bluebirddesigns.com) in Asheville, North Carolina. She makes lovely jewelry, and recommended that I speak with Kate Wolf (http://wolftools.com), a designer and instructor right here in Portland, Maine. Kate graciously emailed me back and stated that she had Googled "cad jewelry ring enamel," and had found a top link going to Classic Hand Engraving & Jewelry (http://www.handengraver.com) in Denver, Colorado. It's a funny thing about Google: you have to use a specific phrase to find a specific site, sometimes, and I had not used the same, exact phrase that Ms. Wolf had tried.
Oleg Mozjoukhine is the owner and master artisan at Classic Hand Engraving & Jewelry, and has created some truly beautiful jewelry that you can view on his website. He uses a sophisticated CAD program to design each piece, and then creates a wax model of the design. From there, he creates a mold, into which he pours the molten metal of the customer's choice. In my case it was sterling silver, but he works with gold and other metals as well.
Oleg was trained in engraving in Yaroslavl, in Northern Russia, and is currently the only hand engraver in Colorado.
There are two approaches to embedding color into jewelry. (I say this as a layman. There may be other methods.) The ancient, traditional way is to use powdered glass that is fired at high heat, and is referred to as vitreous or porcelain enamel. https://en.wikipedia.org/wiki/Vitreous_enamel. It's beautiful, but very expensive.
A second approach, and the one that Oleg uses, is to use an enamel-like polymer that is extremely durable, and can be mixed in a variety of colors with a translucent effect. It is very similar to painting. One of its primary virtues, in my opinion, is that it bonds very strongly to the metal and is virtually unbreakable. I felt this was critical for a ring that over time might get a lot of wear and tear.
Having found the right artisan for the job, my next step was to work with Oleg to translate my design ideas into a practical design for the ring. To do this, we used Skype for phone calls, with screen sharing turned on, so that I could see his screen as he manipulated designs in his CAD program. It was a fascinating process, with a great deal of back and forth that ended up with a finished design.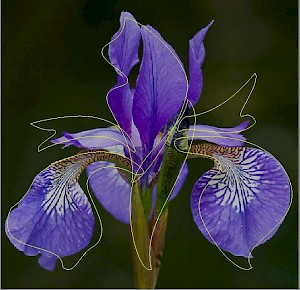 We started with a photo of irises that I found on the web.
Oleg took that photo and created a line drawing. He reminded me that the designs on the ring would be extremely small, so that it would be difficult to display much detail.
As we worked, Oleg came up with the idea to add wavy lines behind the irises. I liked it, and see them as silver vines wrapped around tree trunks. The ring has eight irises laid out in a line, with every other iris reversed to create a flowing effect.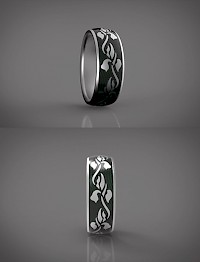 Once we settled on the final CAD design, he sent me a wax model.
Our first iteration of the design had the green enamel-polymer filling in the spaces between the irises, creating a smooth convex outer surface. I had originally wanted the green background to lay in between the raised irises, but I decided to try the smooth, convex look, based on the beauty of many of the other rings that Oleg had made with a similar method. So… he cast the ring and sent it to me.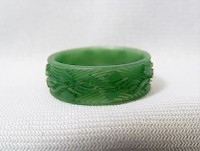 He had made it to spec, and did a great job. To my surprise, I found that a local jeweler who had helped me measure my ring size had miscalculated, and the ring was too small. It would have to be recast.
To confirm the size, Oleg sent me a copy of the ring that he had discarded because it wasn't perfect. He filed down the inside to get the exact size I needed (which I confirmed with three more jewelers).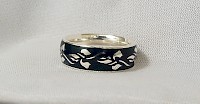 Based on our discussion of color depth (i.e. lighter and darker), he "painted" three different samples of the enamel-polymer in different spots on the ring. One of the areas happened to be lower than the raised irises, and when I saw it, I said, "Aha!" It was exactly what I had wanted in the beginning.
With the need to recast the ring because of my sizing mistake, I asked Oleg to make the enamel lower than the raised irises. He did this by only placing one layer of enamel on the silver. I also asked him to lighten the green color a bit by mixing it with a clear enamel.
He did so, and sent me the finished ring, and there it was: exactly what I had envisioned, turned into a beautiful sterling silver ring with raised irises against a dark green background. Oleg hit it out of the park!
Note that the image below shows "pitting" on the green background. With the naked eye, one cannot see those small marks, and the ring looks shiny and lovely. The second image below shows that difference.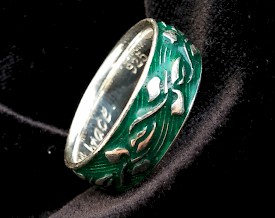 My final task was to have the ring engraved with a phrase that represented the spiritual meaning of the ring. I wanted to use a very specific font, and because Oleg's specialty was in design engraving but not font engraving (he only offers two fonts) I found a local font engraver in Wells, Maine to finish that part of the ring.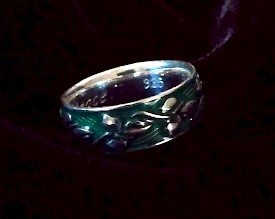 Adam Amara, at http://www.thefriendlyfish.com, did a wonderful job, adding the engraved phrase, plus the standard "925" notation for "sterling silver." I sent Adam a PDF of a font that I liked, and he came very close to it (doing it all by hand).
The phrase that I asked Adam to engrave was "Dear Beloved, We Embrace." It is part of my daily prayer and meditation and is a mantra that I repeat throughout the day, as often as possible, as I breathe in and out. It is a prayer that I refer to as "The Breath of Love Embrace." Here is the font that I used, that Adam reproduced.

Both Oleg and Adam are master craftsmen—artisans of the highest caliber.
I recommend them both and give them both Five Stars.
* * * * * (Five Stars)
(click on the images above to see larger versions)
Oleg Mozjoukhine, Classic Hand Engraving & Jewelry: http://www.handengraver.com
Adam Amara, The Friendly Fish: http://www.thefriendlyfish.com