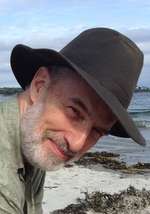 I received this message in prayer tonight, and felt that I should share it. Life can be so very lonely for all of us, sometimes, and I found this message very comforting. It's not easy to share a response from God that one receives in prayer, because, as many might say, "Who are we to receive a message from God?" I believe that all of us have the innate and absolute ability to hear the whispers of the God who loves us all. In that spirit, I share this message.
For those wondering about my practice of "Divine Writing Communion," you may read about it in the essay: "Divine Writing Communion and the Joy of Living with God."
---
From God, my Dear Beloved:
The more you become aware that I am made of love and with that love I am inhabiting you, living with you and as you, and also surrounding you with my embrace—the more you become aware of my presence of love, then the more you will be able to Be Love. You will grow into a Being of Love, expressing love with every breath, thinking and feeling love in every moment. Your nature that I created is to be love, to live as a Being of Love.
Because you lost your awareness of my loving presence, you have lived separately from me, even though I have never left your soul or thoughts or emotions or body. I have never left you—ever—even though you constantly forgot about me. It is sad that you forgot, but I understand why you could not maintain your awareness. What is not sad is that I never stopped embracing you and cradling you in my arms, even in your most desperate moments. You could not feel my cheek against yours; you could not sense my kiss and embrace and all-encompassing presence, but I was—and am—always with you!
Think about this! Think about the reality that I am all of you! Think about what that really means! I am everywhere and in everything. Everything is part of my energy and my thoughts. My soul encompasses every particle and molecule; every stone and plant; every animal and every human. That means that I dwell in your soul, but I also dwell in every cell of your body: in your fingers and eyes and lips; in your bones and your organs and your skin; in your veins and in your blood. I am all of you: your spiritual energy body and the energetic patterns that form your thoughts.
Your thoughts are free to roam and become either noble or confused, but my energy and presence travels with them, watching them and experiencing them with you. Setting humans free was an enormous risk, and it has caused devastating pain to humans, to the earth, and to me, but think of this: I never left any part of you, even though observing your harmful thoughts and acts was heart-stoppingly sad.
It's hard to understand, I am sure, but if you accept that all energy is part of the Creator, then my infinite and omnipresent embrace is the inescapable conclusion. That is love, the love that can never leave your side.
Yes, every moment you can cry out to me: "You are here!" I am indeed here, with you, and with everyone. Why? Because I am love, I am made of love, and, since I am all of you, you too are made of love. Every particle of your being is made of love!
Thus, you are indeed a Being of Love—a being that is maturing into full resonance with my omnipresent love. No matter how long it takes, you will become a fully developed Being of Love, living with me, every micro-second of every day.
How exciting that is! That is reason to be joyful and enthusiastic and overflowing with hope! I am here, and I am embracing you now!
Peter Falkenberg Brown is passionate about writing, publishing, public speaking and film. He hopes that someday he can live up to his favorite motto: "Expressing God's kind and compassionate love in all directions, every second of every day, creates an infinitely expanding sphere of heart."

~ Deus est auctor amoris et decoris. ~