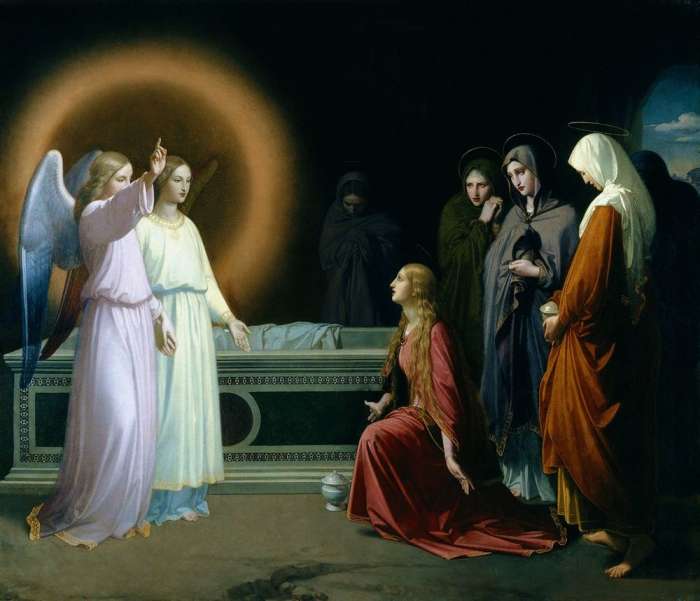 Easter—
It was not just a stone that was rolled away from the door of Jesus' tomb. The darkness of the triumph of evil was rolled away. The resurrection of Jesus created the victory of eternal love over the despair of death.
Jesus entered a world of cruelty with a message that all humans had souls that were directly connected to God, to love, and to a life that was designed to be eternal. We were not just intelligent animals clawing our way over the unimportant bodies of our neighbors. No, all of us, including our enemies, were more.
Although love was present in many human hearts (for love can never be entirely extinguished), life at the time of Jesus was far closer to Hell than to Heaven. Hell, after all, is the realm where love is absent, where individuals are not regarded as sacred and precious incarnations of the God who embraces all of us. Instead, in Hell, feelings and actions are divorced from God, and the human heart is lost—broken and withered by the pain of life, with no awareness of the light flickering in each despairing soul.
Where does the knowledge of love come from? How did we step forward in our ascent from the darkness of caves, from the casual brutality of a world that had no knowledge of the transcendent beauty of a Heavenly world of spirit?
Humans cannot easily perceive realities beyond the boundaries of their current levels of awareness. We can imagine and seek and question, but the illumination of a soul is a blessing that comes from above, a gift that ultimately comes from God.
Jesus was the most extraordinary of gifts to the human race—a man who demonstrated a quality of love and an awareness of the intimacy of God that was so revolutionary that millions of souls have moved beyond the world of separation from God into a realm of sacred and transformative love.
The blessing of the awareness of God's love for each of us is a gift that is available to all of us at any time. Jesus eliminated the boundaries of class, of race, of wealth, of slavery. All humans, without exception, were—and are—loved equally. Jesus vividly demonstrated that God was eager to embrace and love every single person.
All that was required was the one thing that God could not do alone—open each person's heart. Still, God designed the human heart and the free will that too often kept it closed with the simplest of methods that can open anyone's heart to the love of God. In Jesus' words from the Sermon on the Mount, in Matthew 7:7-8, he gave us the key:
7 Ask, and it will be given you; seek, and you will find; knock, and it will be opened to you. 8 For every one who asks receives, and he who seeks finds, and to him who knocks it will be opened.
The divine gift of God's personal, unchanging, and eternal love is available to all of us. Depending on our circumstance, or our own internal level of maturity or growth, we might have to ask more than once. We might have to study how to ask, with humility, with determination, and a childlike innocence and simplicity. But ask we should, for as many times as it takes, for the doorway will indeed open.
The life and resurrection of Jesus were gifts to the world that revealed how powerful God's love was for humanity. They were messages to every one of God's children that even though the world was often hellish and unbearable, we all belonged to God, we all were qualified to receive God's love, and we all could live with God for eternity. The death of our bodies was shown to be a trivial matter, for our souls continued forever.
Those gifts produced a faith and a love, renewed every Easter for the last two thousand years, that have transformed the world. In spite of the flaws of many individuals who struggled to live up to the transcendent love of God and Jesus, the victory of the eternal love of the resurrection has never been lost.
It can never be lost or forgotten because the presence of God in every human life will never change. As Paul wrote in Romans 11:29:
For the gifts and the call of God are irrevocable.
Deus est auctor amoris et decoris.
"Las Tres Marías en el Sepulcro," by Federico de Madrazo y Kuntz, 1841, oil on canvas, Height: 238 cm (93.7 in); Width: 204 cm (80.3 in), Public Domain