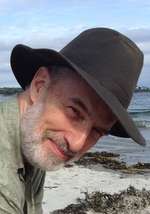 Here is a one-page Open Letter I wrote on December 1, 2020, formatted as a PDF so that you can easily distribute and print it.
It's view of online censorship is this:
Big Tech Runs Internet *Platforms* Which Must Be Censorship Free
Think of Ma Bell and the telephone lines, which now include cell phones. Can you imagine how horrifying it will be if Verizon and other companies start canceling customers because they're conservatives? This is the easiest way to look at the Big Tech Internet platforms. On phone lines, people can say whatever they like. Companies are not supposed to be listening in, and they certainly can't declare (yet) that John Q. Republican can't have a phone because of his political views.
Peter Falkenberg Brown is passionate about writing, publishing, public speaking and film. He hopes that someday he can live up to his favorite motto: "Expressing God's kind and compassionate love in all directions, every second of every day, creates an infinitely expanding sphere of heart."

~ Deus est auctor amoris et decoris. ~