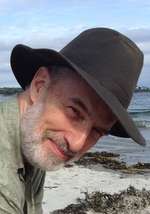 DEAR PETER:
I have been married for 3 years and some months. The 3 years have been almost hell. I raised a little girl by myself, as a man. She was only 16 months when her mother refused to take care of her any more. I took my daughter and cared for her until the age of 7 years old when I decided to get married to someone from my village whom I thought, based on our up-bringing, will care for my daughter with me together. Instead, she hates my daughter, she is always threatening to leave the marriage. Above all, she has not the slightest respect for me as a husband. She is always fighting about money, money!!!
I make enough money to take care of my family... i.e. my family can afford food in the house. I and my wife thought that her going to college to study Nursing would enhance our future, after completion. She attended school full time, without working, for 2 years and 7 months. I took care of the rent, food, clothes, charge cards and all the things a man can do. She now has finished her school, passed, and started working during the last 1 month. She is now telling me that she is no longer interested in the marriage because she is now making $35,000.00 per year. I make $39,000.00. I am inclined to let her go her way but my mind does not say so. I have suggested that we go through counseling, but she turned that down. Do you have suggestions?
Marriage in Limbo

DEAR MARRIAGE IN LIMBO:
You indeed have a sad situation! The relationship between you and your wife is very important, but I can't help thinking that your daughter is in even more of a critical juncture of her life. Your daughter has suffered the pain of having two mothers reject her, and she's only ten years old! She may think that it's her fault (as children often do) and be deeply affected in her self-esteem. What could be more important to her than your love, and her mother's unchangeable love? Yet, at the age of 1 1/2, her real mother left her -- and now her new "mother" wants to do the same. If your wife really did communicate ill feelings or hatred to your daughter during the last three years, then your daughter has already been severely hurt.
To me, the priority should be the heartistic well-being of your daughter. More than anything, while she is still young, she needs to receive endless, unconditional parental love. Then she will grow well, and have a chance to become a loving person in her own right. You have to weigh the options of having your wife stay, and having your wife go -- and how each will affect your daughter. If your wife stays, and changes her heart toward you and your daughter -- and is able to truly love your daughter as her own -- that would be the best thing for your daughter. If, on the other hand, your wife can't change, and continues to mistreat your daughter, it might be best for you to find a wife who can really love your daughter.
I am generally opposed to divorce. I believe that God wants husbands and wives to overcome their problems, and learn how to love each other. That is always the best option. At the same time, your daughter is of paramount concern. One of the problems with divorce is that husbands and wives give up too easily. No matter how many difficulties they're going through, couples need to remember that their relationship with their children is eternal. They may divorce, but the father and mother will always remain the parents of their children. The love between a child's parents simply cannot be replaced by anything else, from the child's point of view. All a child wants is for her parents to love each other -- and then to love her. Period.
Your circumstance is a bit unique, because your wife is not your daugher's real mother -- although she has been with your daugher from age seven to ten. Your daughter is old enough to know that your wife isn't her real mother, and if your wife has been mistreating your daughter then your daughter may not feel very warm toward your wife.
Divorcing your wife will be painful for your daughter. It's a very tough call. I would examine your daughter's heart very carefully -- and try as much as possible to save your marriage and raise up your wife so that she can have a change of heart. One step in the process may be for you to look for a good marrige counselor and/or family counselor -- perhaps at a local church. Even if you wife doesn't attend, it may be helpful for you and your daughter.
Ultimately, I would do what's best for your daughter. I wish you all the best!
Peter Falkenberg Brown is passionate about writing, publishing, public speaking and film. He hopes that someday he can live up to his favorite motto: "Expressing God's kind and compassionate love in all directions, every second of every day, creates an infinitely expanding sphere of heart."

~ Deus est auctor amoris et decoris. ~