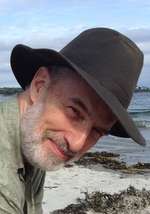 DEAR PETER:
Me and my wife have been married for two years now and we seem to keep hitting bumps in the road and she always brings up past things. When we first started dating I slept with my ex-wife and me and her were together and she now knows that. How do I go about getting forgiveness for that? Now I'm stationed in Iraq and I call home a lot which drives her nuts. She keeps telling me if I don't stop she is going to go sleep with anyone she finds and take pictures and send them to me so I can see it really happened. I want to fix all of this but don't know how. I'm sad and really depressed right now, in search of a lot of help. Thank you.
Bill, from the USA, stationed in Iraq
Dear Bill:
My heart goes out to on this one! I can only imagine how hard it is to be in Iraq, facing danger every day. God bless you for your sacrifice! Since you can't be at home right now, to talk with your wife, and sort things out, is it possible for you to contact a trusted friend, relative or minister that could visit your wife and talk with her on your behalf? I wouldn't suggest a male friend of your own age, but rather someone like a sister, aunt, or older person that she would be receptive to. At the same time, you could write a letter that expresses how much you love her, and how much you wish to create a good and lasting relationship of love with her - which you may have done already. Unfortunately, we can't control how much love others give to us, or how much they respond to us. The only thing we can control is how much love we give to others. In fact, no one can stop us from loving others! If we cling to that credo, with fighting spirit, we may still suffer, but our own soul will remain intact. Eventually, we will find someone that can love us in return. Hold fast -- and my very best wishes!
DEAR PETER:
I'm in a serious relationship with a man that I love, but I know (in fact he's told me) that he doesn't feel the same. He likes me a lot, and he wants to be with me, but he's explained that he doesn't know if he's even capable of those type of feelings. I don't want to lose him, but at the stage where he is, in this, it would be easy for him to leave me. Even telling him that I love him puts pressure on him, because then he feels bad that he doesn't feel the same way. I know this is probably a hopeless situation, but do you have any advice?
Love Unmet, from Europe
Dear Love Unmet:
The one thing you don't want to have happen is to have your love for him unappreciated. Love is too precious for that to happen. Sometimes a person's love can be taken for granted. With men, unfortunately, sex is sometimes higher on the priority list than real, dedicated love. I don't know the details of your relationship, but if sex is involved, I would recommend calling a halt to the sexual relationship and telling him that sex can only happen after marriage. Then, he would have to consider whether he really loves you and is committed to you for the long term, or if he's only interested in the sexual relationship. I believe that this is one more good reason why couples should wait to have sex until after marriage. By waiting, they ensure that a) their emotional relationship is stronger and committed, and b) there's less damage done to their hearts by having uncommitted sex, and then having the relationship break down. Ultimately, he has to decide if he really loves you and is willing to commit to you forever. I hope he does!
Peter Falkenberg Brown is passionate about writing, publishing, public speaking and film. He hopes that someday he can live up to his favorite motto: "Expressing God's kind and compassionate love in all directions, every second of every day, creates an infinitely expanding sphere of heart."

~ Deus est auctor amoris et decoris. ~