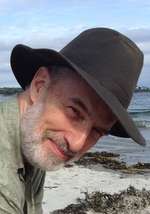 DEAR PETER:
My fiance and I are involved in an interracial relationship: I am of Hispanic descent, while he is of Indian origin. Our relationship is very strong, and our Love has made it through many obstacles, including the disapproval of his family. There are other marriages in his family to people not of Indian origin. Now that we are doing much better with the cultural issue (not only because of family but because of our different ways of thinking, expression, etc.), we have to tackle the issue of virginity.
Since Indian people aren't taught to date, (arranged marriages still occur in his family), I am the only real girlfriend he's ever had. In the 5 yrs that we've been friends, and the 2 and 1/2 that we've dated on and off, I had other boyfriends, and I lost my virginity. There are times when he thinks about my past when we are intimate (we agreed to not have sex until we're married), whether he's inadequate or not, whether I did something before with someone else, which he feels makes our intimate moments mean less, and most of all, he feels like I "killed him" when I lost my virginity.
I made my mistakes 1, 2 yrs ago. I have done all I can to show him how much I love him and how much he means to me, but I am afraid that he won't be able to get over the fact that I had sex with a couple of other guys because I was stupid and naive. Whatever the circumstances, it still hurts him just as much. I know it's because he loves me so much. He treats me like a queen. But when he starts to think about my past, he gets cold or says mean, offhand comments. He still cries about it when it comes up. How do I teach him true forgiveness? How do I help him get over it? Can I? It's not fair to have to pay for my mistakes 2 yrs later. This is our biggest problem, and I don't know how to get through it. How do I help him???
ElmoDEAR ELMO:
Gaining his complete forgiveness could take a long time, under normal circumstances. The loss of virginity is very serious for some cultures or religious beliefs, and can't easily be sidestepped. Seeking his forgiveness on only human terms may be inadequate. He may harbor regret for many years, simply because of unresolved feelings.
There is an organization that is currently conducting "Rededication of Marriage Ceremonies", as well as marriage ceremonies for new couples. It's called "The True Family Values Ministry", and it conducts nonsectarian marriage ceremonies for people of any religion, who believe in the values of unselfish love. One of the key components of the marriage ceremony is the aspect of "forgiveness", both coming from God, and between the couple. Many couples have reported that the marriage ceremony gave them a real feeling of a "new beginning", and a cleansing of their past.
This ceremony can be done in addition to a traditional wedding ceremony. It doesn't have to replace a marriage ceremony that you may have planned. In Florida, where you live, the contact person is Rev. George Beutl. His email address is "gbeutl@aol.com". There are representatives in all 50 states.
I recommend this marriage ceremony, because it places an "official stamp" on the issue of forgiveness. Even though your fiancé is Hindu, this ceremony may help -- because it goes beyond any one religion. The common denominator is centering one's marriage on God, and the ethic of true unselfish love. I wish you all the best!
Peter Falkenberg Brown is passionate about writing, publishing, public speaking and film. He hopes that someday he can live up to his favorite motto: "Expressing God's kind and compassionate love in all directions, every second of every day, creates an infinitely expanding sphere of heart."

~ Deus est auctor amoris et decoris. ~