In September of 2013 I wrote a piece about "The Warmest Coat in the World: The Snow Mantra by Canada Goose." I wrote it after I had a fit of ague (pronounced "ay (like 'say')-gyoo"), which is defined as "shivering or shaking chills."
No, I was not a pallid-faced romantic poet collapsing in my wintery garret. I was walking down Congress Street in Portland, Maine, on a February night. The temperature was "wickit cold" at eighteen degrees.
My father and my aunt both had Raynaud's disease, which made their fingers turn white in the cold. Mine don't do that, but my body doesn't like the cold at all—not one little bit. I keep my office at eighty degrees in the winter, and in the summer anything under seventy-five is a "cold day."
Cayenne pepper adorns almost all of my meals. Well, I don't put it on ice cream or chocolate. Just the meat or fish or pasta or. . .
For my sixtieth birthday, my wife and family and friends all chipped in and bought me an L. L. Bean "Baxter State Parka," which is their warmest parka. It's a lovely parka, and very nice for thirty degree weather. That's me saying that. Their website rates it as "Light activity: to 5° Moderate activity: to -45°." But that's for normal people.
(Update on the L.L. Bean Parka: It sadly doesn't do the job, as an intermediate parka. I must one day find a replacement.)
I wear it—gratefully, my dear friends—in "inclement weather." In cold weather (cold to me), I found myself shivering, thinking, "Hmm, what about the Snow Mantra?"
Then, one day, I received money from an unexpected source. It was money that was "extra money," not money that I needed to feel obligated to put into our bank for bills. I talked to my dear wife, and asked her, "The Snow Mantra is extravagant, right? One thousand, two-hundred and seventy-five dollars, plus tax!"
We talked about it. I asked our children. Then Kimmy said, "But, hey! You never buy clothes. You don't own a suit anymore. You've probably spent less than $1,250 on clothes in the last twenty years, which is just over fifty dollars a year. You still use a pair of winter gloves I bought you as a gift, over thirty years ago. So buy this coat! You're always cold, and it will last you for the rest of your life."
That settled it. Our youngest son, Tadin, agreed, seconding the motion and saying, "Yeah, Dad never buys clothes," as we sat at dinner.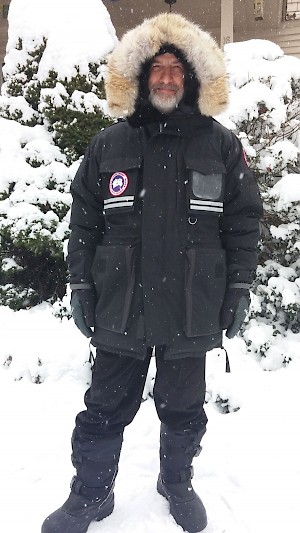 So I bought it, in January, 2016. Then, it hardly snowed at all in Portland, and the weather was rather warm. Luckily for my "wearing of the coat," we had some nights when it went down to under ten below, plus a windchill, and I went out into our front yard at 2 a.m. and gazed at the stars, with the puppy dog next to me, and I was warm!!! I was warm without having to wear endless layers. I was so toasty I wanted to do a jig to celebrate, but the coat was too heavy, so I didn't. Yes, it's a heavy coat! But that's okay. I love it.
I am finally, truly outfitted for winter, with my Snow Mantra coat, my Baffin Impact boots, my Ushanka Sheepskin hat (which I wrote about in the article "Peter and the Christmas Russian Hat," and my Outdoor Research Alti gloves. I am finally warm!
For those souls who hate the ague, and who also want to be warm, here are links to these lovely products. All of them are rated for extreme cold weather.