I got an unexpected gift of money at Christmas, so I went online and found a hat that I had been looking for, for quite a while.
It's a Russian Ushanka hat, and it's one of the warmest hats in the world. It's made in Canada, from Mouton Sheepskin, which is the warmest fur for wet snow climates like Portland. (It's incredibly soft.) Beaver is the warmest for dry cold, according to the company.
The retailer (FurHatWorld) had many other different types of fur, as well. And if you're against fur, then sheep is a good option.
I've worn my Ushanka in -5F, and it's really, really warm.
It has flaps that you can tie up, tie down, or tie back (covering the ears). The quality of workmanship is excellent. At the time of purchase, it was $179.95. The one I purchased was Model #GB-258-265-BLACK.
Here's the link, if you want one for yourself.
http://www.furhatworld.com/mouton-sheepskin-full-fur-russia…
The hat was manufactured by "FRR Canada," a luxury outerwear company in Winnipeg, Manitoba.
http://www.frrcanada.com/the-brand/
I give the hat a resounding 5 Stars.
My wife and I took the dog for a walk in Capisic Park today, so she took some photos. It was a nice balmy, snowy day of 20 degrees Fahrenheit.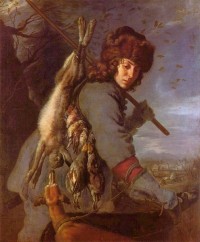 Since it's a Russian hat, I had to do the "good Russian" and the "bad Russian" poses for the photo shoot.
Actually, the Ushanka has been around for hundreds of years in Northern Europe -- not just Russia.
This is a painting of a German hunter with an early form of the ushanka, by Joachim von Sandrart. The painting is called "Der November", and was painted in 1643. Click on the image to see a larger version.
Here's a wiki page about the Ushanka style hat:
https://en.wikipedia.org/wiki/Ushanka#History
And here are the photos of my hat. Click to see larger images, and then right click on the popup images to see even larger ones. :-)
The Bad Russian
The Friendly Russian
The Mad Russian
The Mean Russian
The Nice Russian
Image(s) from Wikimedia Commons