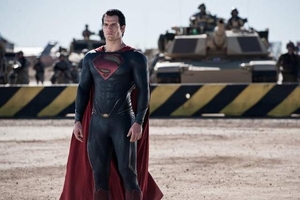 Tonight, my wife and our friend, Surya, and I saw the movie, The Man of Steel, starring Henry Cavill.
My Queen spake thus, "Handsome handsome handsome, sincere and brave and true. Favorite Super Moment: seeing Clark running through a backyard by a clothesline, bare-chested. Holy Potato, what a paragon of male beauty."
Yes, I sat by my Queen's side as we watched The Cavill awe all women of the world. Hugh Jackman has been dethroned as the Most Handsome Man in the World. How can I be jealous of a God? I simply tip my hat and say, "Well... there he goes."
I loved the parts of the movie with Superman talking and being so brave and true. The long, extended battle scenes were too long and extended, and were a bit of a bore. I kept thinking, "Nobody's talking about how many people they're killing as they crash through office buildings, fighting each other."
The body count across all the battles was enormous, but there were very few bodies, so it seemed almost like incidental, uncared for collateral damage. I didn't like that part.
But my eyes welled with tears a number of times at Our Hero's Goodness. I love Superman because he's just so darn Good! He has always been my favorite super hero, starting way back in 1961, when I was seven, buying Superman comics and red licorice at the Vaughan Street Variety, in Portland, Maine.
Superman is good, and noble, a hero that people need, especially in grim times. If you have not seen this movie, do. I give it 4.5 stars out of 5. Even with the weight of overly long fight scenes, it was a great movie. Ignore the cynical and the unmoved. This is a movie for those who believe in goodness, hope, innocence and sincerity.
And yes, Ladies, he's handsome. Oh, Kimmy? Queen Kimmy Sophia? Where are you? Oh, she's just looking at a Super God...
We thank our friend, Surya, for taking us to the movies tonight. Of course, that meant I was in the company of TWO Women who were mesmerized by The Cavill. But I don't blame them.
Really.
4.5 STARS
This film publicity image released by Warner Bros. Picture shows Henry Cavill as Superman in 'Man of Steel.' (AP Photo/Warner Bros. Pictures, Clay Enos) / AP