[Update: See "Goodbye Ague! Hello Snow Mantra!" for an article about purchasing the Snow Mantra.]
This week, as September draws to a close and Winter Approaches (yes, that's how I feel, as I mourn the loss of 80 degree days), I am reminded of the evening of February 2, 2013.
On that winter night, I went with my lovely bride, Queen Kimmy Sophia, to One Longfellow Square, in Portland, Maine, to listen to some bluegrass music played by Erica Brown and her band (no relation).
After that fine event, we walked back to our car, two blocks away. By the time we reached the parking lot, I was in "Full Ague Mode." (Ague is "shivering and shaking chills.") Like FULL AGUE MODE. I couldn't even drive.

So, you might ask, how cold was it? About 18 degrees Fahrenheit. Like they say in Maine, "I was freezin' 'cause it's wickit cold." But to a Real Mainer, 18 degrees ain't nothin'. Ayuh.
I'm a Real Mainer with a Caveat. I trace my paternal ancestry through a line of Maine Browns that go way back... all the way to Boston in 1655. So what's wrong with me?
I was born in Coral Gables, south of Miami. I was corrupted forever by the tropics, even though I left that grand state when I was three years old, dragged howling and screaming back to the North.
In the North, on that bitter, nasty, wicket cold night in February, I made a decision.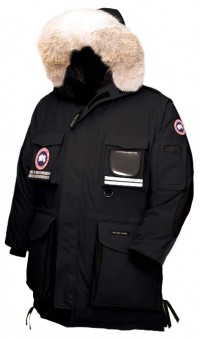 I NEED the "Warmest Coat in the World" - The Snow Mantra, by Canada Goose, made for expeditions to the Antarctic. That should take care of that wickit, evil nasty AGUE (pronounced ay-gyoo, by the way ("ay" like "hay")).

Of course, the Snow Mantra is only $1,200 DOLLARS! Oy gevalt! What's a body to do!? That's downright wicket expensive! Almost immoral to own one. Like, man, what can I say, when somebody says, "Hey guy. Nice coat."
Grimacing with embarrassment, I mutter, "Thank you. It was $1,200. Don't hate me."
Sigh. But it's so COLD!!!! It's like, 18 degrees! Or 30!
My only defense is that my blood just doesn't circulate fast enough, even though I put cayenne pepper on almost every meal.

Italy is looking mighty attractive right about now.

I don't like the Ague. But I love the idea of the Snow Mantra, by Canada Goose. One day I shall own one.
Click on the photo to see a larger image. Go here to drool over one:

http://www.canada-goose.com/products-page/arctic/snow-mantra-2
Their website states:
"Arguably our most famous parka, the Snow Mantra™ is renowned as the warmest coat on earth. Developed for industrial and commercial work in the coldest regions on the planet, the Snow Mantra will carry you through the harshest of winter months in the harshest of climates. It is the most comprehensive offering in men's cold-weather apparel."
If you wanna be warm, get a Snow Mantra, by Canada Goose. Tell 'em I sent you, because the Ague Must be Defeated.
~ Photo of Snow Mantra coat by Canada Goose
Used with permission.